Disney Research, Pittsburgh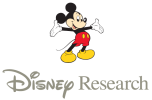 This academic year, I am spending some time working with the newly formed Disney Research, Pittsburgh, (Directed by Jessica Hodgins) formed next to CMU.  The press release is announcing this lab is here (Carnegie Mellon SCS Press Release). I am also hanging out with folks at the CMU Robotics Institute and have started some new collaborations.  So now depending on when, you can find me either in Atlanta (at GA Tech) or in Pittsburgh (at Disney Lab or CMU) [OR on a airplane between Pittsburgh and Atlanta].
Tags: 2008, 2009, Disney | Categories: Jessica Hodgins | Date: October 23rd, 2008 | By: Irfan Essa |
You can follow any responses to this entry through the RSS 2.0 feed. You can leave a response, or trackback from your own site.